As you all know, WordPress 2.7 has been released. You can read about
it's features here.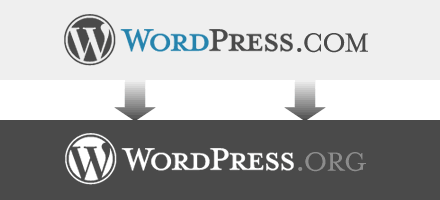 More and more people start using WordPress. Last month a couple of my
client asked me to help him migrate from WordPress.com to their own
hosting. Here is short instruction on how to get it done easily.
The essence of migration is redirect old links to new domain.
1. I assume that you already buy hosting package and domain name,
download latest version from WordPress.org and install it on your
server.
2. Now we need to move content to new blog:
– login to your wordress.com dashboard , and go to Tools -> Export,
make export;
– login to your new blog admin, go to Tools -> Import, choose import
from wordpress. Choose your imported.xml, choose 'author mapping',
check 'attach import' checkbox.
3. Now lets make redirects:
– first you need to change nameserver on new domain to
NS1.WORDPRESS.COM ( there could be more nameservers, change all to new
). This way you can point new domain to your old blog. Don't forget to
save old NS records, we will need them soon.
– login to your wordress.com dashboard , and go to Upgrade ->
Domains, add new domain there. There should be no errors if you change
NS records as described above. This service costs $10/year
– now redirect links from old blog to new. Click on 'Put blog here'
link opposite to your domain.
– Now we switch back NS records to our hosting. We have powerful
blogging tool on new domain + old links point to new domain.
4. Useful advices:
– WordPress.com permalink structure is
blogname.wordpress.com/year/month/day/postname, and you need to set
such structure to get redirects to appropriate posts;
– Want to change permalink structure and keep old link redirects ?
Use "Dean's Permalinks Migration" plugin;
– Use Youtube movies in your blog? to avoid editing all posts you can
use "Youtube Brackets" plugin.
I hope you will find this article useful. If you have something to
add, write in comments.