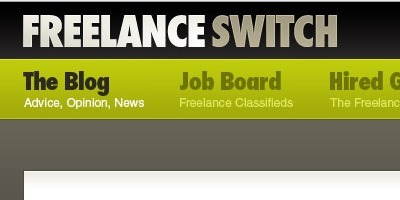 "freelanceswitch.com" says the following about itself :
"HELLO. We are a Community of Freelancers. On this site
you'll find Advice, Jobs, Resources and much more!"
and this is 100% true.
This site looks like a blog. Colors are soft and not annoying. All is clear and simple.
Many useful information and helpful articles for freelancers and not only for them.
Vacations' page implemented as list and divided by following topics:
Design / Illustration
Programming
Writing / Blogging
Misc
Flash
No registration and waste of time. Just choose vacancy, read its description and call the employee. I am an old freelancer and I like this approach a lot.
No advertising ? How could it be ? Maybe site creators don't need money and just want to make our world better ? Well, at least it looks like that :) . But if you visit "Hired Gun" page, you will understand that these guys need hot-dog too, at least once per day. They wrote a book for us, freelancers, and they say it should help us to rise to a new business level. Who knows. We'll see. If you want to try it, pay only $10 and i hope your financial life will improve.
Forum!
Honestly, i would like to see just a regular forum, topics, posts, etc. It would be easier to find information you are in need. Maybe i just an old freelancer, but i think people would understand me. Big plus of this forum is a perfect search.
There are also Podcasts & Resources. You can find out more about these sections by visiting the site.
I wish you all to have nice employers and interesting work.