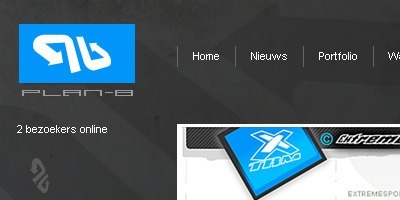 Netherlands Web studio.
It does not strike you with something outstanding. Most likely it is done using severe, conservative-like style and is supposed for clients who also like clean, factual style.
You can see a lot of sites using dark(black) colors and dark collages and looking dirty and unclear. It irritates & strains.
If you want to use dark background, take into account :
how it will look with light text
background must not stain eyes
Follow Plan-B example. They find the golden mean. Light text looking good on dark background. All content divided into sections. Background is not stain. Good work.
But! Plan-B, your site is not valid, fix it. All must be perfect: design, content, html coding.
Wish you good luck. See you in Holland!